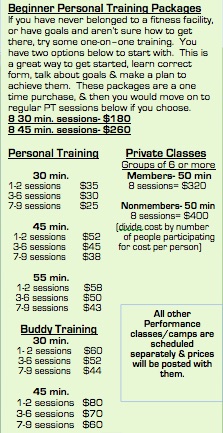 We have many options for getting you in the best shape of your life!  All you need is your dedication and discipline, and we will help you get the results you want!
There are many options for Personal Training.  We have 1 on 1, group training, couples classes, TRX, Yoga/Pilates…basically whatever you want!  Rachel has worked with the young and golden.  She has been there for many clients post-rehab (knee or hip replacement, shoulder surgery, post cancer treatment.  Every individual will have their tailed program.
There is Performance training for high school/college/adult athletes, and injury prevention training as well.  Let us know how we can help you!